Mapping the pulse of Sham Shui Po
Exploring the integration of past and present
around one of the oldest districts in the heart of Hong Kong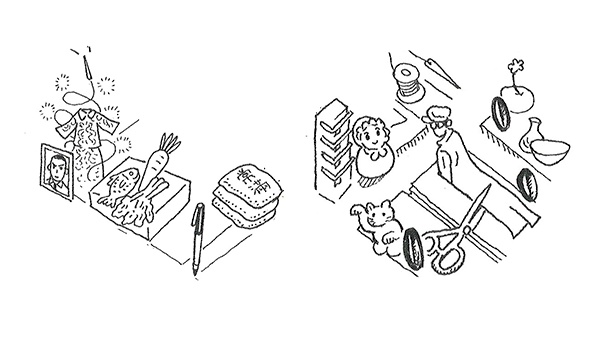 Schoeni Projects is delighted to present SHAM SHUI PO IS STILL SHAM SHUI PO – a map dedicated to the exploration of Sham Shui Po, illustrated through the visual language of renowned local Hong Kong comics artist Li Chi Tak.
In October of last year, Sham Shui Po was ranked 3rd by Time Out in their vote for "coolest neighbourhoods" in the world, alongside Barcelona and New York. However, with the introduction of new contemporary shops, cafes and art spaces, attention is drawn to the concerns of gentrification Sham Shui Po faces as one of Hong Kong's oldest and poorest districts. This project aims to map the pulse of Sham Shui Po. A reminder of the value behind the historical landmarks and commerce. To reinforce the belief that we should treasure the collective memories and foster connections with the community as a whole, both old and new.
"Growing up, I spent a lot of time in Sham Shui Po as it was my grandparents' home. I have a strong sense of belonging and pride in my roots there, as to me it is quintessentially Hong Kong and has such a unique energy. With the pandemic, travel restrictions and Hongkongers looking locally for places to explore, and the new art spaces that have taken up residence in the area, it seemed natural to want to promote the district to those who may not have realised the diversity and the changes happening there. Commissioning Li Chi Tak to create a map of the district is my way of paying homage to my home and encourage support of the local businesses in the hope to capture and document the cultural heritage of Sham Shui Po before they potentially disappear," Nicole Schoeni, Founder of Schoeni Projects (April 2021).
Li Chi Tak is one of the most significant comic book artists in Hong Kong and could in fact be considered a Hong Kong treasure himself. He has cultivated a distinctive art style, creating his own visual language showcased by the SHAM SHUI PO IS STILL SHAM SHUI PO map. His unique language tells miniature stories of the district and encourages the observer to explore the area themselves. "I have a very poor sense of direction, and I never got to remember the street names. I often get lost even in the area where I live... Sham Shui Po is one of those boundaries. I think it is dense and complicated, in the midst of it I often fail to navigate. But after joining this project, it started to make sense, as different areas and streets start to match the bits and pieces of my memories. I got a better understanding of the changes that this old district has been undergoing, and this is a very good challenge indeed. Of course, this is just temporary. It is still a complicated maze to me," Li Chi Tak (April 2021).

The map will be available as a printed version as well as a more comprehensive digital edition on this website on 2 June. Limited edition prints of Li Chi Tak's hand-drawn map will also be available.

More Information to follow, for updates please join our mailing list.

#SSPisstillSSP MAP

The printed map will be available from 2 June onwards.

6月2日起可於以下地點免費索取「橫睇掂睇都係深水埗」紙本地圖。

| | |
| --- | --- |
| Form Society 合舍 | 186 Tai Nan Street, Sham Shui Po 深水埗大南街186號 |
| Present Projects | 3/F, Tak On House, 13 Wong Chuk Street, Sham Shui Po 深水埗黃竹街13號德安樓3樓 |
| Thy Lab 太堂 | 135 Yu Chau Street, Sham Shui Po 深水埗汝州街135號 |
| Schoeni Projects | 13A Shui Ki Industrial Building, 18 Wong Chuk Hang Rd, Hong Kong 黃竹坑道18號瑞琪工業大廈13A |
| Soho House | 33 Des Voeux Road West, Sheung Wan, Hong Kong 上環德輔道西33號 |
| WOMANBOSS HK | 82 Apliu Street, Sham Shui Po 深水埗鴨寮街82號 |

Photos: Courtesy of Alex Wong and Schoeni Projects.

Li Chi Tak

"There is no need to differentiate alternative comics from commercial comics, for the so-called 'alternative' is just another side of the commercial. Comics is at the same time a form of art."

Li began his career in the comics industry in 1982. After working for a corporate comics publisher in Hong Kong for a month, he decided to start his own venture as a freelancer. Following on from the release of The Wisely series, he self-published Tong Men Shao Nian, a prominent title which rocketed him to fame in 1987. He has since developed a distinctive art style, creating his own visual world with eerily experimental works that broke genre rules.

Black Mask, Assassins, Tien Yao Ji, Superbaby, Little Strawberry, and K are major works that he created in the early stage of his career. Selected publications from this decade include The Voyager, The Lover, and Folio, Little Circle, Vicious and Solar Eclipse.

Li's transmedia creations transcend the boundary of comics and expand into movies, experimental theatres, literature, pop music and sculptures. His idiosyncratic style has attracted the attention and commissions from local and international brands such as Nike, New Balance, IdN, Uniqlo, Starbucks and Hong Kong International Airport.

Li is also well-known to the international comics scene. His comics have been published in places like Japan, Taiwan, Malaysia, Mainland China, France and Italy since the 90s.

In 2016, the Hong Kong Arts Centre had jointly curated Li's solo exhibition with the Angoulême International Comics Festival in France as one of the Festival's thematic exhibitions. His French comics The Beast, a collaborative project with the famous Belgian writer Jean Dufaux, was released at the same time. This solo exhibition had given birth to another international cooperation opportunity. Li was invited by the Louvre Museum to create a new comics Moon of the Moon. The French version has been released in November 2019 in Europe, with a Hong Kong Chinese version keenly in preparation by local publisher, Today Publications.

#SSPisstillSSP

#橫睇掂睇都係深水埗